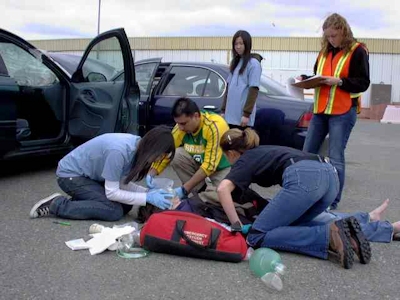 Whether your regular Attendant has taken time off, or the WCB has made you newly aware of your obligations, we can send you a certified Occupational First Aid Attendant within hours, anywhere in the Lower Mainland.
Attendants and employers alike are invited to post messages regarding work, whether seeking or offering it. (Must register to post) Link to Message Board.
Please note that F.A.S.T.E.R. currently covers only the Lower Mainland. For First Aid services outside that area try our free Job Referral service. Contact our office to list your requirements.
F.A.S.T.E.R. Features:
FAST

Short notice and / or short term
2 hours or less response time in the Lower Mainland

SIMPLE

One phone call, one signature
All inclusive hourly rate
Custom-tailored coverage for hours, days or weeks

EFFECTIVE

All occupational settings
First aid room thoroughly cleaned
Inventory checked to match or exceed WCB standards
Other tasks within WCB guidelines (extra skills vary by attendant)

RELIABLE

Reliable professional coverage
All attendants are experienced Level 3 OFAs, certified and regulated by the Workers' Compensation Board of British Columbia
No need to screen short term help
O.F.A. Attendant Coverage
Immediately for last-minute emergencies
In advance for pre-booked shifts
24 hours a day — for just a few hours to lengthy stays
Jump kit or equipment available as needed
Booking & Inquiries
IMMEDIATE COVERAGE

24 hour emergency pager: (604) 450-6644


INQUIRIES OR TO PRE-BOOK SHIFTS

Office: (604) 294-0244 / (M- F from 9am to 1pm)
After hours: (604) 294-0244 / press "0", then press "3" for more information or "1" to leave a message
Fax: (604) 294-0289
Toll free: 1-800-667-4566 in BC, Yukon & Alberta
E-mail to faster@ofaaa.bc.ca